An easy three-hour drive from Melbourne, Mt Buller is the most accessible alpine resort in Australia.  Most people drive to Mt Buller and park in the day/overnight car parks, but you have the option of catching a bus from Melbourne, Mansfield or Mirimbah at the foot of the mountain.
Here is simple guide if driving up the mountain: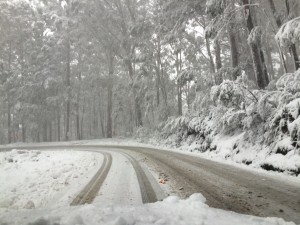 Ensure you have anti-freeze in the radiator before you leave home and Alpine Diesel if you have a diesel car – last stop for this is Mansfield.
Chains must be carried if staying overnight, but it is advisable to carry them at all times until end of the season. You can hire them in Mansfield.
Proceed to the resort entry gate at Mirimbah to pay entry, parking and taxi fees for transfer to/from the Lodge, then head up the mountain.
Resort staff will direct you where to park. A 4WD taxi will then drop you and to the front off BMW Ski Club Lodge.
On your return you will need to call a taxi and tell them in which car park your car is parked.
Warning!  Alpine driving in conditions of snow, ice or bad weather is hazardous, especially for the inexperienced.  Exercise great caution and drive within your or your vehicle's capabilities.
More information is available at www.mtbuller.com.au/Winter/plan-your-visit