When you arrive you will be warmly welcomed by our resident Lodge Manager who will help you with any queries you may have about the Lodge and services on the mountain.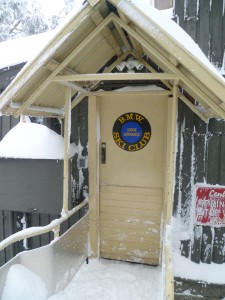 Bedrooms and Bathrooms
The Lodge has 5 comfortable hydronically heated bunk rooms; most are family rooms with double and single beds.
There is a bathroom for every room, which incorporates separate toilet and shower.
Bedding: Each bed has a doona and pillow.
Linen: You will be provided with Linen and Towels on arrival and have to make up your bed. On departure you will need to strip your bed.
There is reasonable hanging space and a drawer per bed.
Details of room allocation are posted on the Lodge Notice Board in the lobby.
Kitchen
The Lodge has a fully equipped kitchen that easily handles a fully booked Lodge; with two electric cook tops/ovens, two microwave ovens, a dishwasher, two sinks and a large commercial refrigerator. An outdoor BBQ is also available.
Food storage space and shelves in the refrigerator are marked according to room allocation.
Non-perishable food such as condiments, coffee, tea, flour, sugar and cocoa are provided, and there is a daily delivery of fresh milk.
On Saturday nights, the Lodge comes to life with the Traditional Club Roast provided for all residents. The preparation and clean-up is shared by all. Please let the Lodge manager know if you are not attending.
What to bring: Food for all meals, other than Saturday night.
There is a Foodworks on the mountain.
Ski and Dry Room
The ski room for residents is immediately inside the Lodge entrance – skis and boots should be wiped clean of snow with the brushes provided.
The drying room, first door on the right, has ample space for Ski/Apres Boots and all your clothing after a hard day's skiing!.
All ski and apres boots must be removed before entering the Lodge. You can also enter the Lodge from the drying room.
The ski and drying room are for residents during their stay and not for storage midweek between weekend visits.
Lodge Operation
Lodge Manager – Our resident Lodge Manager ensures smooth operation of the Lodge by residents and can assist with direction to services on the mountain. A Duty Member is also present on most weekends. Either will gladly assist you.
Check-in time is 6.00pm. When you arrive at the Lodge, either ring the doorbell or use the security code in your booking reminder email. Your room allocation will be on Lodge Notice Board. If you arrive prior to 6pm and your room is still occupied, place your gear in the day storage cubicles until the room is free.
Check-out is 5.00pm. You may not extend your stay without the member or preferred guest who arranged your booking confirming the extension with the Booking Officer.
Security: When arriving/departing the Lodge, please use the side entry using the digital security lock. Please respect the security of all residents by not disclosing this code to non-resident visitors. The Club will not take responsibility for loss of personal property. The balcony entrance should not be used, except in emergency.
Keeping the Lodge clean: You are responsible for cleaning your room and bathroom. Cleaning products can be found in your bathroom. Each bedroom has a specific duty allocated to them.
Guest sign-in: Members guests and guest must sign in the lobby.
WIFI: While most residents use their mobile phones, the club does have WIFI. Our WIFI speed is variable due to usage on the mountain.
BMW Ski Club Lodge is Non-Smoking.
Contacts for your stay: The Lodge Manager's mobile number will be on the notice board at the foot of the stairs. Also see our Contacts for your stay page.